Traveling is your first love and being called an avid traveler is a matter of pride for you. You try to travel at least twice a year and the times when you are not traveling, you are thinking about your next trip. If these signs seem relatable to you, then you also come in the club of 'travel lovers'. Every travel lover wants to make a perfect plan which starts from booking the most reasonable flights and hotels and is taken forward by doing a deep research on local sightseeing places, food, ways to commute etc. But every travel plan is still not perfect if you don't have a nice and spacious suitcase to pack our clothes and essentials in.
How to choose the perfect suitcase?
A good travel suitcase is a must have for every travel lover. While trying to make the right choice in choosing you perfect suitcase, there are few things that you need to keep in mind.  The suitcase must be durable and strong so that you don't have to worry about how to handle it and can travel worry free. It certainly needs to be spacious enough so that it can hold everything you want to carry along with you and still the insides don't get wrinkled or twisted. The suitcase should be crafted keeping in mind the different kinds of things you might need to carry while being on a trip and hence needs to have proper dividers, internal and external pockets and a trustworthy locking system. Last but definitely not the least, you would want your suitcase to be a good looking one which adds to your style quotient while being on a trip.
Keeping all these factors in mind, we have made a list of 7 best suitcase brands in India for you.
7 Best Suitcase Brands in India
1. American Tourister
If you want to travel comfortably and also look extremely classy on your trip, this renowned brand is the right choice for you. American Tourister is a well known name in travel and luggage sector. Their suitcases and travel bags are known to be good looking, spacious and of great quality.
2. Carlton
The brand mainly focuses on business travelers around the world. Carlton is a Mumbai based brand and has offices all over India. It has built a very good market in last few years. The brand is famous for its Teflon coated lightweight strolley suitcases, hard suitcases, laptop bags, duffel bags, wallets etc.
3. VIP
Old is Gold! And so is VIP. VIP brand is the largest luggage brand in India and the second largest luggage maker brand in the world. The brand has earned excellent goodwill over the years and it hasn't come for free.  The brand is known for its quality and spacious bags, making them a perfect partner for every traveler.
4. Skybags
Stylish, trendy and reasonable – Skybags are perfect for young travelers who like to travel in style and also want to save on some money. Skybags is a brand which is quite popular among youngsters. It has a wide range of travel products which come in bold colors, trendy designs and affordable prices.
5. Safari
Safari keeps their travel bags minimal in design and high on quality and comfort. Available in hard luggage and soft luggage categories, Safari suitcases are a perfect choice for your family vacations.
6. Samsonite
Samsonite is another luggage brand that is considered to be a luxury brand. Known for its exquisite designs and roomy interior, the Samsonite suitcases also brag their excellent safety features, strength and dependability.
7. Aristrocat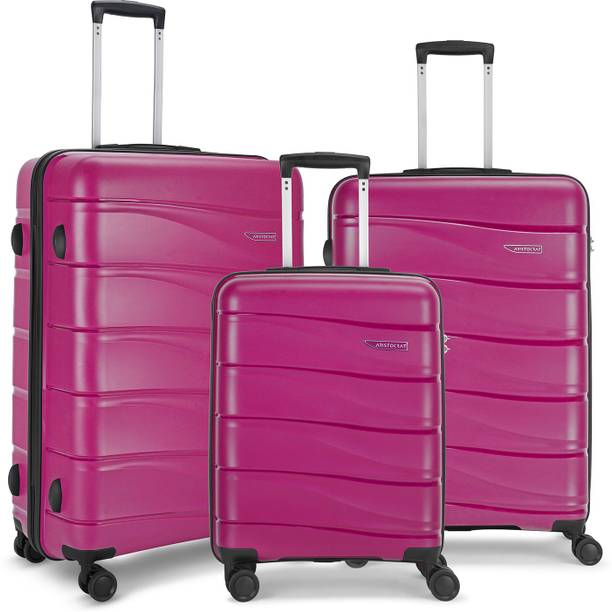 The premium pricing range of this brand justifies itself by it's durable and lightweight suitcases which are made by high quality material and smart interior design. Aristrocat suitcases are a class-apart and are perfect for your work and family trips.