It was a Sunday afternoon and I was just lazing in my Summer blanket thinking of what to make for lunch. Suddenly, my phone beeps and a message from Zomato flashes on my screen. "Grr. Grr. Grr. Grr. It's probably your stomach making noises. Order something?" And I was sold. In next few minutes I placed a heavy order and in next 30 minutes, I was holding the order in my hands.
Do you see how an intelligent marketing system can make you buy a product in just a few minutes? This kind of marketing is purely based on how relatable your content is, how easy the language is to be appealing to the masses and does it hit the right chord or not.
Meme Marketing and its evolution over the years
Meme Marketing is when Brands use memes to promote their narrative. It's a fun and easy way to approach your target audience. A Meme, as we all know is an image, video or piece of text that makes fun of a situation. Essentially, memes are inside jokes which make people relate to them as soon as they see them. Hence, when people resonate with a meme they share it widely on internet and that way in a very short time a meme gets viral.
Brands these days are trying to take full advantage of the meme culture. There are some brands that are going with the flow of this meme culture and are very creatively inculcating memes in their marketing strategies.
7 Brands that have a really strong meme game on Instagram
Instagram is a place where you can connect with a large audience. Over the years, Instagram has become a really rewarding platform for brands to promote themselves. If the content is good, relatable and trendy it hits the right chords on Instagram and some brands have understood this very well. Brands are trying different marketing strategies to promote their narrative on Instagram and the element that is emerging to be the most popular is – Memes.
Let us see which brands are using memes to promote themselves and how strong and creative their meme game is.
1. Zomato
Zomato's Marketing strategy is just spot on. The way it convinces you in minutes with its creative pop-up texts and memes on social media, we think that their meme game is just way too strong.
2. Netflix
You remember the time when Radhika Apte starring in almost every Netflix project was a trending topic on social media? Thousands of memes were doing rounds on Instagram and in no time it became a viral meme trend. Well, the Streaming company also became a part of this meme trend and we simply loved it.
3. Brand Factory
Brand Factory is a one-stop destination to shop for a variety of brands. The brand keeps launching great discounts and schemes to woo their customers. Meme marketing is another trend that the brand is trying their hand at.
4. Tinder India
Tinder is another brand that has entered the Meme Marketing field and how! In one of its meme ads, the dating app very clearly gives out a message that why should one go adulting when there are better things to do.
5. Swiggy
Like its competitor Zomato, food delivery app Swiggy is also using creative memes to connect to its target audience. The ads are so creative and relatable that we can safely say – Swiggy's marketing strategy is definitely a TEN!
6. Nestle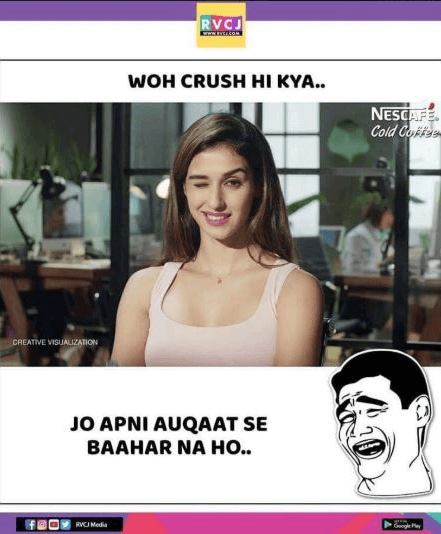 Nestle also collaborated with India's biggest meme platforms like RVCJ Media which create hilarious memes to promote Nescafe coffee or the campaign that featured brand ambassador Disha Patani.
Also Read: 10 Digital Campaigns That Went Viral With Meme Marketing
7. ALT Balaji
ALT Balaji has been using memes as a creative device to promote its web series and shows. The memes shared by the streaming channel on its Instagram handle are hilarious and are loved by netizens.