In the wake of the coronavirus pandemic, PM Modi addressed how self-reliance was key in surviving the new phase of the lockdown. India had to be strong and genuine to its own culture and brands rather than depending upon foreign goods, as the current situation will make the economy more reliant on its own production. Locally made goods should be promoted and used just as India's very own Khaadi which brought a lot of profits to the handloom sector of the country and also become a well-exported commodity.
How can you do your part in using localised Indian goods? Replace foreign brands with the following alternatives.
Mysore Sandal/Medimix/Patanjali Soaps
Move over foreign brands like Lux, Dove and Fiama. Use Indian soap brands made with no added chemicals that are manufactured by Patanjali, Medimix and Mysore Sandal. Even though the Indian FMCG industry is flooded with products by P&G, it is time to stay true to your country by using Indian soaps instead that have found their audience among these other commercialised brands.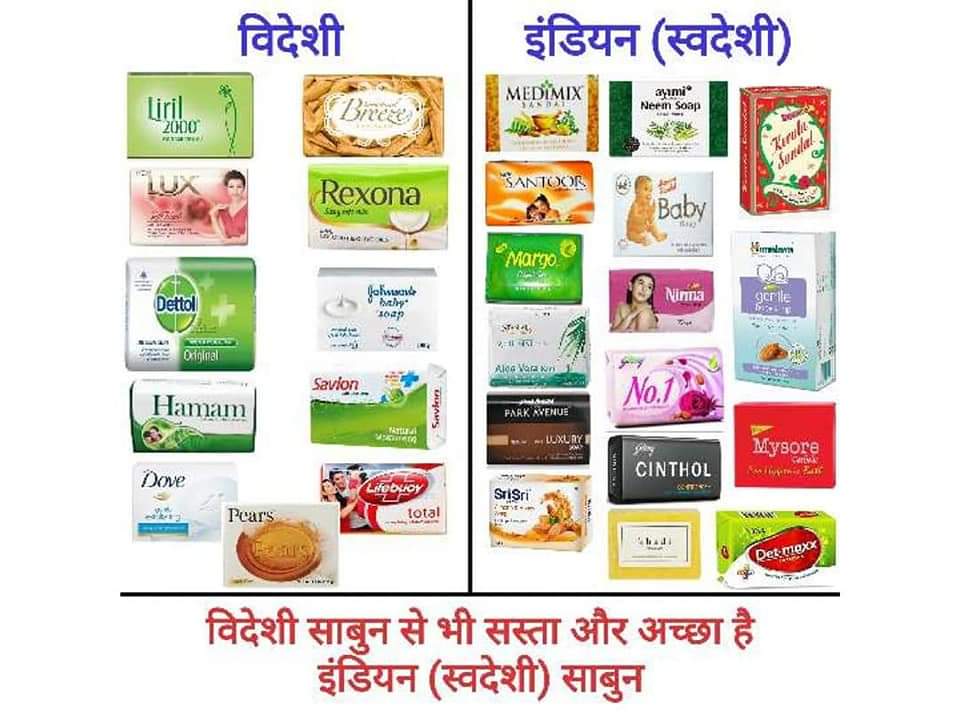 Bira 91
There are so many Indian beer brands to choose from that are popular all over the country. The entry of Bira 91 has now got the audience hooked. Other Indian brands include Old Monk, Royal Challenge, Amrut and even Kingfisher!
Allen Solly/Peter England/Van Heusen for clothes
Even though they sound foreign, Allen Solly, Peter England and Van Heusen are all Indian clothing brands! These brands are owned by the Indian giants' Lifestyle and Madura Fashion. Switch to these brands over Zara, H&M etc and you can always go shopping for clothes at departmental stores like Big Bazaar, Landmark Group and Reliance Retail.
Cafe Coffee Day for Your Cup Of Coffee
Cafe Coffee Day has been a popular name in India since decades now. Its delicious coffee and other savouries has helped it expand all over India. Did you know that this brand had set up its first-ever cafe in India? Other coffee companies that have come up in India following suite are Blue Tokai Coffee Roasters, KC Roasters and Third Wave.
Go the automobile way with Tata and Mahindra
Locally made and foreign assembled cars pose a tough competition in the market for automobiles. However, brands like Tata and Mahindra have come out with beasts with R&D parts procured from abroad but most of the production done in India. This sumps up most of the GDP of India. Another counterpart of the automobile industry is largely popular because of the brand Royal Enfield, which is a household name in many countries. Did you know that it is an Indian brand?
Utterly Butterly Delicious with Amul and Mother Dairy
Amul has been India's favourite dairy company followed by Mother Dairy. Amul and Wadia group-owned Britannia have more than 400 brands under them that are reigning over the Indian market for many decades now. Move over Danone, the popular international dairy brand as Amul tastes so much better and authentic.
Replace your cold drinks with Maaza, Frooti and Paper Boat
If you're looking to utilise some products from popular beverage brands, ditch your Pepsi and Coca Cola and try Indian brands like Paper Boat and the amazing taste of mango in the summers with Maaza and Frooti. Rich in flavour and with fruity pulps that will make your taste buds enticed, these brands have come a long way and have found a niche market in the country.
How many Indian brands do you use on a daily basis?
Source: OfficeChai